How Teams Work
Teams produce results beyond what groups of even the most skilled individuals can do. What does it take to produce such a results producing team? The discipline of a real team involves six common characteristics:
A

Small Number

of people
with 

Complementary Skills

,
committed to a 

Common Purpose

and specific 

Performance Goals

,
who use an agreed upon 

Common Process

,

and who hold themselves 

Mutually Accountable

for their 

results
The researchers at Team Coaching International have synthesized the work of Katzenbach & Smith with that of Daniel Goleman (Emotional Intelligence) and John Gottman (Gottman Institute & University of Washington). This team model, which we have adapted at Collective Edge, balances Productivity factors (such as decision-making, accountability, and goals) with Positivity factors (camaraderie, trust).  The resultant Productivity by Positivity matrix yields four combinations as shown in the chart.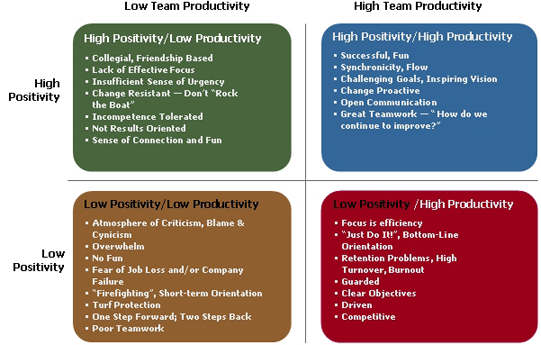 Unlike other typologies (for instance, the Meyers-Briggs), this one has a 'right' answer: organizations want (and need) teams that exist in the Blue Quadrant – high productivity/high positivity. At the same time, teams are where they are. No matter which Quad a given team falls in, conscious effort with a skilled coach can help rise them up to the next level.
Would you like to see how your team measures up?
Then please read about the Team Diagnostic Assessment.