Transformation & Change
"Michael understands the complexities of helping people deal with change….I heard team members, management and coaches alike voice their admiration for his intelligent and thorough approach. Michael is a strong teacher who leads by example, and easy to work with." –Deborah Hartmann Preuss
Leading transformation initiatives in large organizations has many challenges. Understanding the nature of change is essential, both on an individual and on an community (organizational) level. From supporting change and transformation initiatives for almost two decades, we have identified eight key success factors that need to be in place to maximize the likelihood of successful adoption.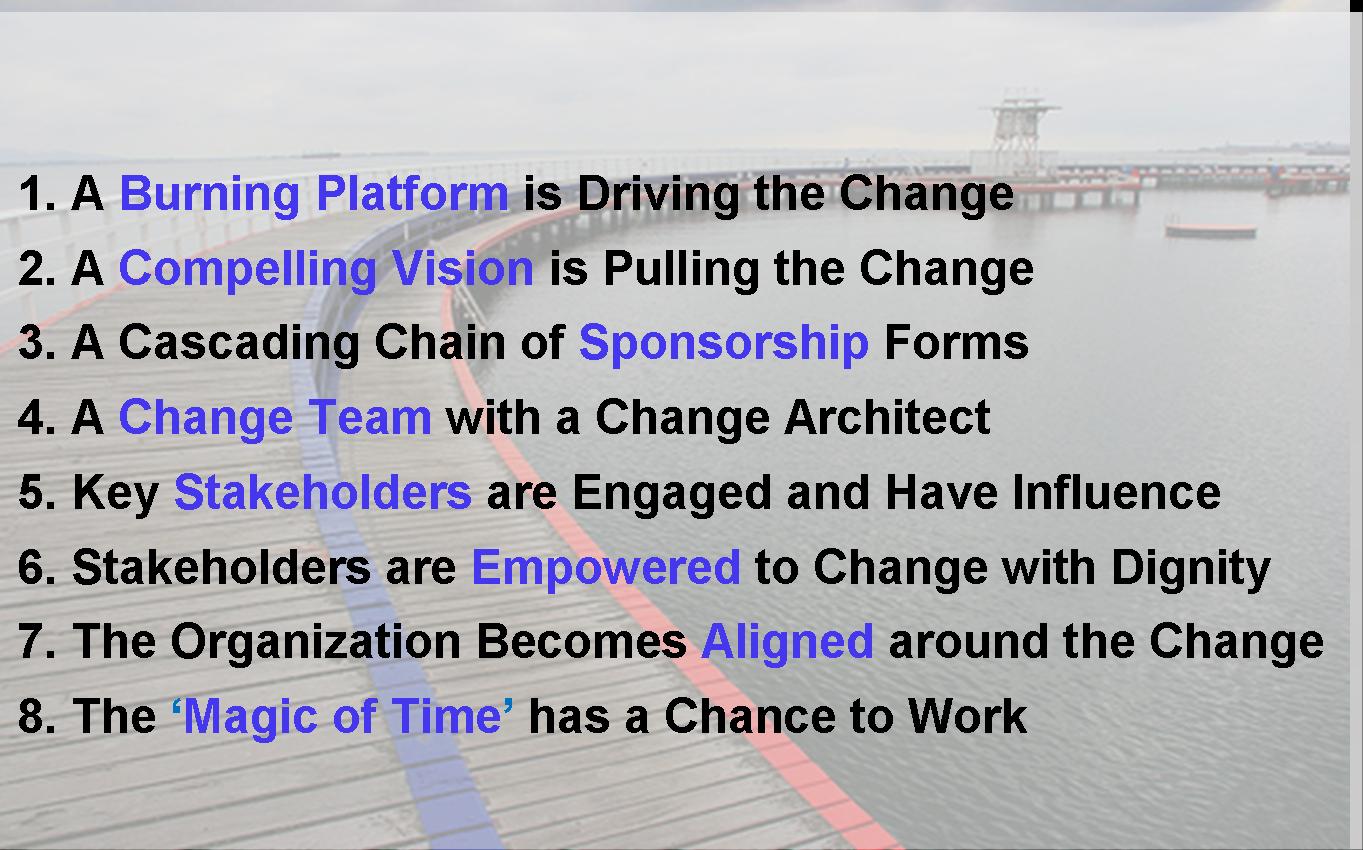 First, we must define the drivers of change. In a world with too much change, there needs to be a darn good reason for insisting people do something new. William Bridges advises that we often skip over "selling the problem." We need to articulate how the platform is indeed burning.
What is the vision of where we are going? If the burning platform is the 'push,' the vision is the 'pull.' Taking time to really articulate what the future looks like will make the change both real and compelling.
The 'executive' sponsor–at whatever level relevant to the change–needs to sell her direct reports, who need to sell theirs, who need to sell theirs. Memos are not enough to enlist action.
Change does not happen without a team who takes ownership, even if the team is two people. Roles like change sponsor, change agents, change architect, key stakeholders, and steering committee all need to be coordinated around following a change process.
Change agents sometimes think they can skip over creating a process for gaining buy-in. They reason that a decision has already been made, we don't need to throw it open for discussion again. While that may be true, there is always room to decide 'how' to change. Failing to involve others in this process may result in compliance, but it will not result in commitment.
We often ask people to change without giving them the proper tools, training and time. Significant change is a process, not an event. Letting go of the past may take some time.
Everything may be on track with a given change, but if the rest of the organizational systems do not support the change, trouble looms. Preaching team performance, then evaluating people for their individual contributions, will seem contradictory.
Finally, change happens in stages and over time. One of the biggest mistakes made in large scale change is a kind of limited thinking based on annual budgets, leading to an ADD-like focus (or lack thereof) for extended periods needed for transformation to take effect.
We also work with more 'advanced,' less conventional change models from Relationship Systems work and Spiral Dynamics.
organization change, organization change management, enterprise transformation, change model, Daryl Conner, John Kotter