About
"Harmony is a wonderful thing, but not nearly as powerful as awareness."
–Arnold Mindell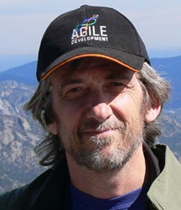 Collective Edge Coaching and Consulting, llc began in 2004 as Cogility Consulting Solutions. We evolved a new name in 2006—Collective Edge—inspired by the work of Arnold Mindell, and the recognition of our tendency to be drawn to the edge, whatever and wherever that was.
Our vision is of a world of healthy teams and organizations that achieve outrageous business results, deep fulfillment and personal transformation. That guiding star led us both to the Agile movement in software development, and to Organization and Relationship Systems Coaching as our primary method for working with teams and organizations. Our primary tool is the Team Diagnostic Assessment and the Agile Adoption and Maturity Framework.
The metaphor driving Collective Edge has always been that of a collaborative 'round table' of consulting and coaching partners. Partnering makes our work more fun, more doable (especially in hazardous territory), and very diverse and flexible.
We hope you will give us feedback on how you see us and what you want from us. We are ready to listen.