Where We Stand
A Personal Statement from the Founder
Collective Edge is all about change and creating the future.
Becoming an Agile Enterprise will change things! As will taking your team to a new level of performance. Across your enterprise: leaders, managers, teams and customers will all need to think and act differently. Experience in catalyzing change, wisdom in aligning your organization's culture, and courage to lead in new directions is what we offer.
Our mission is to champion and facilitate healthy teams and organizations–and the growth of the human spirit–using cutting edge approaches to business. Our vision is a world where organizations of all types promote the flourishing of people, planet and profits. The evolving Agile Enterprise is the roadmap.
Our unique expertise lies at the crossroads of Organization Development, Relationship Systems Coaching, Leadership, and Agile thinking. We offer Coaching, Assessments, Advising and Education programs to give you what you most need on your emerging change path.
After earning your trust, we prefer to work for the executive sponsor, moving fluidly between all levels of the organization to leverage different perspectives and to help give voice to the whole human system.
"Michael has exceptional mentoring and coaching skills and emerged as a leader in [Fortune 200 Financial Services]. Michael stands by his principles and is not easily influenced or swayed by corporate bureaucracy to accomplish established goals." –Todd Cole
We have been involved in coaching, training, advising–and sometimes just witnessing from the sidelines–over 10,000 IT team members and 300 or so teams as they both struggle and rejoice in evolving their Agile Enterprise.
I hope you will put our expertise to work for you.  Please contact me directly if I can be of service.
For more information on my background and experience, please see my LinkedIn Profile and Recommendations.
Michael K. Spayd,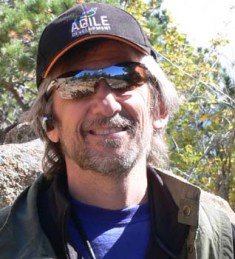 Founder, President & Chief Sage
michael@collective-edge.com